---
Type: commercial space
Phase: concept project
Year: 2022
Institution: History Museum Chiprovtsi
Location: Chiprovtsi, Bulgaria 
The museum in Chiprovtsi tells the story of the local community famous for its crafts, culture and connections to the Western world. The exhibition presents the residents' traditions in mining and goldsmithing, their trade relations, the subsequent development of education with the local literary school as well as the outbreak of the Chiprovtsi uprising of 1688. The penultimate hall is dedicated to the topic of carpet making – the main craft in the settlement in the 18 and 19th century. The characteristic style, motifs and masterful execution of the Chiprovtsi carpets made them popular throughout the country and abroad leading to their recognition as part of UNESCO's world intangible cultural heritage.
The renovation of the souvenir shop in History Museum Chiprovtsi is an initiative of the America for Bulgaria Foundation that aims to support the long-term development of the institution and the promotion of the cultural site. The main goal is to create a modern museum shop that can generate significant sales and provide funds for the museum activities such as exhibition development, marketing and attracting tourists. The initiative includes design of new souvenirs (t-shirts, mugs, bags, accessories) as well as construction of a modern museum shop to replace the existing one.

The project for the museum shop is based on several key points: modularity, functionality, ease of use as well as an aesthetic connection to the narratives in the museum. The two developed concepts interpret the topic of the Chiprovtsi carpets by incorporating it in their design. The first one transfers the "Katanitsa" motif from the carpets onto the modules of the stand to define their forms and colors. The second one uses the constructions for weaving and hanging carpets as an inspiration to create a backbone for the elements of the stand. Of the two proposals the museum team chose the first one which is expected to be completed in the fall of 2022.
–
VISUALIZATIONS: @History Museum Chiprovtsi @MartinaDeneva
Concept project – Proposal 1: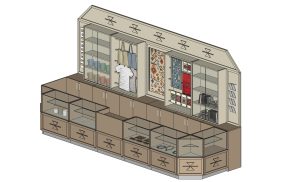 Concept project – Proposal 2: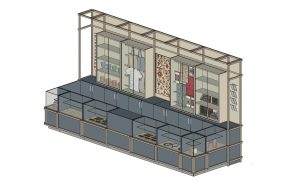 Finished project: